I know that -ideally- Shelters would prefer to find a Flight parent (Difference between a Flightparent and a Flightescort) as it will be cheaper for them, but sometimes there just isn't any available, or others cannot fly due to Work or Family Commitments or other Reasons. I can fly most times, with Aegean Airlines I am allowed up to 5 Pets in Hold. Prices for Pets in Cargo or Cabin with Aegean Airlines can be found here.
I LOVE traveling and seeing new Places. But-of course- it takes Money and Time.
Time I have enough, but NOT the other Ingredient :).
I have made several Trips as Flight Escort for Rescue or Shelter Pets from Larnaka (Cyprus) to various EU Destinations and am mostly available.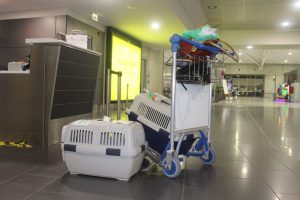 I know and have flown with Pets in Hold (and Cabin) to Brussels, Paris, Hamburg, Stuttgart, Düsseldorf, Frankfurt and others. I have met up with various Animal Couriers or private Individuals in those Airports who either took the Rescue Animals further on in their Journey OR offered them a loving forever Home.
In SOME Cases I will pay for my own Hotel Stay and all other related Expenses such as Transport to and from the Airports, Parking, Food etc. etc.
All YOU need to provide is the actual Airline Ticket. We will meet at the Airport (mostly Larnaka of course), check in the Crates and on the other End I will meet up with the Couriers OR New Pet Owners.
Your Pets should be ready to fly with all the necessary Paperwork. (EU Pet Passport or Traces where applicable) Your local Vet can advise you what your Pet will need to be able to Travel.
Also please make sure the Crates you are using are Airline Approved.(Further Information on Crate Sizes and General IATA Pet Travel Regulations are here.)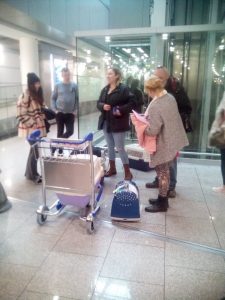 Up to FIVE dogs / Cats can be added to one passenger ticket and they are handled as oversize luggage i.e. they will be checked at the special counter for Oversized Luggage (Sperrgut).
If you are a registered Cyprus shelter, or a rescue group, you can register with us here on the Directory. Please note, ANIMALS MUST HAVE ALL PAPERWORK IN PLACE TO TRAVEL
I can fly from other Airports as well but it would be more expensive as I will first need to get there and later return from there.

Is there anything you would like to see on the Flight parent Website? Anything we can add to give Value? We are open to Suggestions if it is related. Please send Ideas to us via the Contact Form or contact me on Facebook.
Becoming a Flight parent is so easy. For more Information click here.