Traveling with Pets on Transavia
Pets on board-Transavia

You may take a cat or dog with you on board our flights. Just like you, we want only the best for your pet during the flight. That is why someone must always travel with your pet, and they can only come on board with you if they are older than 3 months and 21 days. Read the information below so your trip can proceed smoothly.
How do I add my pet to my booking online?
You can add a pet while booking your flight, or afterwards via My Transavia. This is possible until 2 hours before take-off. We have limited space for pets on board. Therefore, add your pet to your booking in time to ensure it can travel with you.
Add a pet to your booking:
Log in to My Transavia
Check your booking
Book special luggage & pets
Select pet in the cabin or in the cargo hold
Select the pet travelling with you
Pay and confirm your booking
Attention! Should you wish to cancel your pet's ticket, please contact our Service Centre. Unfortunately, we do not reimburse the cancellation.
When can I take my pet with me in the cabin?
Your pet is allowed to travel in the cabin in a flexible pet carrier, a hard plastic kennel is not allowed. Put this under the seat in front of you. For your pet's safety, you may not open or move this during the flight. In addition to your pet, you can also bring one piece of hand luggage with you in the cabin.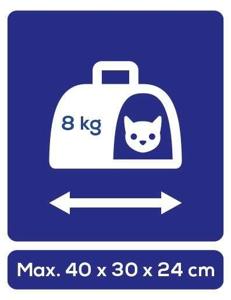 Dimensions
Maximum dimensions per travel carrier: length 40 cm x width 30 cm x height 24 cm.
Weight
Maximum weight of the pet, including the carrying bag: 8 kg.
Age
Cats and dogs must be at least 15 weeks old.
Price
Price per pet per single flight: €45.
All pet carriers must meet the following conditions:
The bag must be an official pet carrier, such as those sold at pet shops.
The carrier must be fully closeable.
The carrier must have air holes to provide your pet with enough oxygen.
The carrier must have plastic windows for viewing the animal.
Your pet must have enough space to move around.
What are the conditions for traveling with pets in the hold?
It is important that your pet is comfortably transported in the hold. That is why it is important that the kennel or pet carrier is spacious enough for your pet to stand (without touching the top), to turn and to lie comfortably. The kennel should be made from glass fibre or hard plastic. In addition, you should take four (reusable) tie wraps per flight so that you can close the kennel door properly. For safety reasons, toys cannot be transported in the kennel or pet carrier.
When can I take my pet with me in the hold?
You can transport your pet in our cargo hold. This is a special heated environment that is equipped with climate and pressure control. It means you can be sure that your dog or cat will travel as comfortably as possible.
For the safety of your pet, it is important that the kennel meets the legal requirements of IATA (International Air Transport Association). Ask at the pet shop for information about the permitted kennels and check our terms and conditions for kennels and travel carriers. Does your kennel have wheels? Make sure that the wheels can be dismantled or locked before travel so that the kennel is not able to roll around in the hold.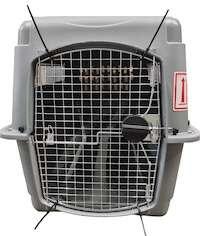 Always take four tie wraps with you. You use them to secure the door of the kennel (see photo) and prevent it from opening unexpectedly. Will you also be flying back and bringing your pet with you? Use reusable tie wraps or take extra tie wraps with you so that you can close the kennel properly on your return flight.
Dimensions
Maximum dimensions per travel carrier or kennel: length 102 cm x width 69 cm x height 76 cm.
Weight
The maximum weight of your pet and kennel together is: 75 kg.
Price
Price per pet per single flight: €70
Attention! We can transport a maximum of two pets in the hold per flight. Therefore, add your pet to your booking in time to ensure it can travel with you.
Where can I buy a special kennel for my pet?
For flights from the Netherlands:
Special kennels (e.g. "Sky" and "Vari" brand) can be purchased online from various suppliers. Larger pet shops and specialized transport companies also sell these kennels.
For flights from Paris-Orly:
The company Bagages du Monde is specialized in transporting special packages. For information on kennels, call +33 1 49 78 97 75. You can find Bagages du Monde at Orly Airport by Gate G on the Departure Hall level.
TIP!
You can transport two puppies/kittens (if part of a family) or a mother and one puppy/kitten in a single kennel.
Can I bring my snub-nosed animal with me?
Due to high temperatures and stress, snub-nosed animals such as pugs, boxers, bulldogs, Pekinese dogs and Persian cats may have difficulty breathing during the flight. Therefore, to ensure their well-being, snub-nosed animals can only be transported in the cabin. The weight of the animal including kennel should not exceed 8 kg.
Can I bring my fighting or attack-trained dog with me?
So-called 'fighting dogs' or 'attack dogs' that fall under the categories below may not be transported either in the cabin or in the hold. These dogs may not necessarily be of a particular breed but have a similar build to:
American Staffordshire Terriers (Pitbulls), or similar dogs (for example Staffordshire Bull Terriers or Bull Terriers);
Mastiffs, or similar dogs;
Tosas, or similar dogs;
Rotweilers, or similar dogs.
What are the requirements for pets' travel documents?
Your pet must have their own passport, a "pet passport". This passport must be issued by a qualified veterinarian and contain the following information:
Rabies vaccinations. Your pet must be vaccinated at least 21 days before departure.
The regulations for the health statement in a passport differ by country. For the regulations for your destination country, please contact the consulate or embassy of that country.
To fly with your pet, it must be chipped for identification with an electronic identification system (transponder). Was your pet tattooed in a clearly visible place before 3 July 2011? If so, your pet can also travel within the European Union with this tattoo.
The pet passport is mandatory to travel with your pets, including within the French domestic network.
Please note! if you are flying to Malta with a dog, your pet must be treated for tapeworm between 5 days and 24 hours before departure.
What time should I be at the airport with my pet?
We advise you to arrive at the airport with your pet at least two hours before departure.
What else should I take into account when flying with a pet?
Contact the embassy for the country you are visiting well ahead of departure. They can provide more information on any special rules or quarantine requirements.
Give your pet a light meal and some water up to 2 hours before departure. If you have a dog, it makes sense to take it out shortly before departure. Your pet will not be able to eat or drink during the flight.
You should only give your pet a sedative after consulting a vet.
Always make sure to take care of all vaccinations and travel documents well ahead of time.
Check with your vet about the validity of your pet's passport.
Place some comfy blankets, a towel or some newspapers at the bottom of the kennel.
Give your pet some time to get used to the kennel before the flight. Five days is usually sufficient for your pet to get used to the kennel.
Can my pet travel with me to all destinations?
Unfortunately, you are not allowed to take your pet to certain destinations. This has nothing to do with the country's rules, but rather is due to the rules at the airport. Therefore, Transavia does not transport pets to or from the United Kingdom, Iceland, Scotland, the United Arab Emirates and the city of Chambéry.
What should I do if I am allergic to dogs or cats?
Are you allergic to cats or dogs and are you seated close to a pet? Let the crew know, so they can consider the options available.</p
The Information is believed to be true at the Time of writing but customers are advised to contact the Service Center for any Clarification.
The information contained is believed to be true, but we have made no attempt to verify it.Please check with the relevant Organization or Airline.