Traveling with Pets on Norwegian Airlines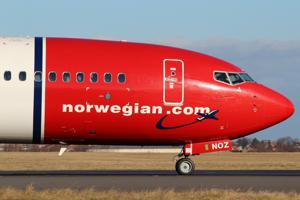 Planning a trip with your four-legged friend? Your cat or dog is very welcome on many of our flights.
Pets in the cargo hold
Cost to transport your pet in the cargo: 60 -80 GBP (online) 75 – 90 GBP (airport), per animal, each way.
Cats and dogs can travel in the cargo hold on the following flights:
Flights to/from Svalbard (dogs only)
Flights within Schengen and/or EU (UK and Ireland excluded)
Domestic flights within Argentina
Up to two cats or two dogs can travel in the same crate if they're well acquainted. They must be of a similar size (maximum weight: 14 kg per animal). A dog and cat are not permitted to travel in the same crate.
If your pets don't meet these requirements, they must be transported in separate cages or kennels.
Connecting flights – only in Norway
Cats and dogs can travel in the cargo hold on connecting flights within Norway (excluding to/from Svalbard) via Oslo Gardermoen, Bergen Flesland and Trondheim Værnes.
Your transfer time between flights must be longer than 1 hour and shorter than 2 hours.
Pets in the cabin
Cost to transport your pet in the cabin: 45 – 60 GBP (online), 55 – 75 GBP (airport), per animal, each way.
Small cats or dogs can travel in the cabin on domestic flights within Argentina and on flights within Schengen and/or EU (excl. UK and Ireland).
We accept up to two pets in the cabin per flight (up to three very small puppies or kittens traveling in the same container may be booked as one animal).
Getting ready to fly
Kennels and crates
Make sure your pet is comfy and secure in its kennel, and that it meets the requirements needed to fly.
In the cargo hold
Your pet must be able to stand up, turn round and lay in a natural position when it's in its container.
The container must be no bigger than 125 x 81 x 86cm (L x W x H).
It must be clearly marked with your name and mobile phone number.
It must be clean, in good condition, and be made be of a solid material that is fully waterproof. However, weld mesh containers are not allowed.
You must remove or fasten any wheels.
You must secure the kennel door with zip ties/cable ties.
It must be adequately ventilated on three sides.
In the cabin
We only accept bags and containers specifically designed for the transport of pets. We recommend using a 'Sherpa Bag' made of flexible materials (available at most pet stores). Transport bags must always meet these requirements:
The container must not be bigger than 43 x 31 x 20 cm, or, if soft, should compress down to fit these dimensions.
The container and pet/s must not exceed 8 kg in total gross weight.
The container must be leak-proof
The animal must be able to stand up, turn around and lay down comfortably while in the container/bag.
Travel conditions
Air travel can be noisy, and temperatures in the cargo hold can vary depending on the weather. To ensure a positive experience for your pet, please make sure it's fit to travel in these conditions.
Be aware that extremely cold weather may cause periodic restrictions on your pet traveling to and from certain destinations.
Ask your vet
The comfort and safety of your furry friend is one of our top priorities. Please check with your vet that your cat or dog is fit to fly, keeping in mind that there isn't a vet available at the airport or during the flight.
Important information regarding Brachycephalic (snub-nosed) dogs and cats
Several Veterinary Associations around the world informs that the carriage by air of brachycephalic (snub-nosed) breeds of dogs and cats involves an increased risk of breathing problems and overheating due to the stress of flying.
If your pet is a brachycephalic (snub-nosed) breed and you still wish to travel with us, you will be asked to sign a release form at check-in acknowledging the risks associated with air travel for your pet.
If you're uncertain if your pet is a brachycephalic breed, please contact your vet for advice.
Paperwork for your pet
We want your whole trip to go as smoothly as possible – before you fly, please make sure your cat or dog has all the necessary paperwork for air travel, including vaccination documents. On international flights we require this certificate to be in English.
You can find legal information about traveling with your pets within the EU in Regulation (EU) No 576/2013.
Apply for a permit to travel with your dog to/from Svalbard
If you'd like to bring your dog to or from Svalbard you need to apply for a permit from the Norwegian Food Safety Authority.
Apply for a permit for your dog to travel to Svalbard.
Check in at least one hour before departure
Make sure you're at the airport nice and early. You need to have completed check-in at least one hour before departure if you're traveling with your pet.
The information contained is believed to be true, but we have made no attempt to verify it.Please check with the relevant Organization or visit their Website.