At time of writing I am #unvaccinated. If that scares you – it should not. I get tested weekly at the Airport or elsewhere, whereas #vaccinated do NOT get tested and can spread the so called "C-Virus". We call them SUPERSPREADERS!
Ticket Share Costs/Flight Escort Fees
Ticket Share Costs depends entirely on the actual Ticket Prices paid, divided by 5 (as I can take up to 5 Pets on one Ticket). Obviously Ticket Prices vary depending on Airport Destination AND Dates. On average 1 Ticket Share can be between € 60.00 and € 80.00 but of course can be more or less as well.
Bringing the Pet to the Airport
Preferred Check In Area is Gate 13 (the special Pet Check in Area outside the Main Airport Building) If you do not know how to get there here is a Map.
New Larnaca Shelter Animals (Dogs&Cats) Check In Procedure(UPDATE)

Pets should be ready with Paperwork (Pet Passport, Traces if applicable etc)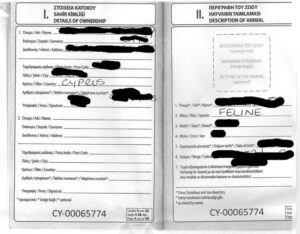 A Copy of the Passport Page which shows the Name etc of the Pet should be affixed with Sticky Tape to the Top of the IATA Travel Box.
The Door of the Box should be secured with Plastic Cable Ties.
The Weight of the Box (Medium) should be less than 25kg and over 25kg will be considered a large Box which costs more at Aegean.
If your Pet (cat or dog) is on MY Way to the Airport (coming from Protaras-i.e. in Ayia Napa for example) I could take them with me If all Paperwork etc is done and IF I have Space in the Car.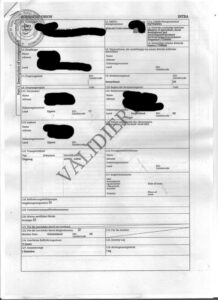 Although I have taken Cats WITHOUT Traces to Germany and have NOT been asked for them at the Arrival Airport, it is always advisable to get Traces done. A list of Places to get Traces done in Cyprus can be seen here.