Frankfurt 03.May 2023 (Full)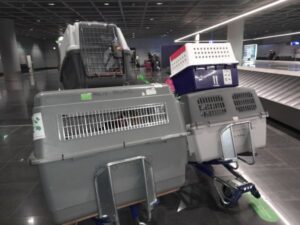 Some Spaces are available for Animals in Hold on Ticket Share Basis.
Escorted Flight from Larnaca to Frankfurt 03 May 2023 (a Wednesday) 4 Crates reserved.
Flight Numbers:
Larnaca Athens A3901
Athens Frankfurt A3830
Depart 05.00
Arrive 10.15
Please contact for Details
In Larnaca we meet at around 3.00 am at Gate 13 for the Animals to be checked in.
In Frankfurt we will land at 10.15 local time (if on time)
Please check the Arrivals Table in the Airport or Online to see at which Terminal we land
Look for FLIGHT NR 3830 from Athens.
We should be coming into the Arrivals Hall A
At the end of A1 there is a SIXT Stand and large Poster on the Wall. There is also a Disabled Toilet there which can be closed completely and is suitable for changing Animals into other Crates if necessary.