New Dog or Cat IATA approved Carriers are expensive.
If you only need a Crate for a once off Journey it might be better to just rent one for the Day.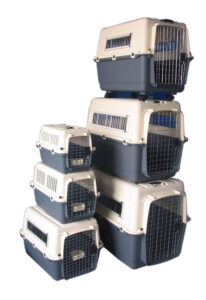 I have various sized Crates available you could rent. ALL IATA approved so there won't be any Issues with non acceptance at the Airport.
Rental Charges vary because I need to bring them back as checked in luggage which of course costs and varies from Airline to Airline.
Sometimes I also need to leave them at the Destination in the Overnight Luggage Storage Facility at the Airport.
Rented Crates need to be brought back by on my Return Flight as booked in Luggage.
Various Airlines charge different Prices for booked In Luggage, that is why the Rent Prices can be different depending on which Return Flight / Airline I have.
As an Estimate it can be anything between € 25.00 to € 45.00 to Rent a Crate.
Adopters need to come to the Destination Airport with their own Soft or Hard Crate (or Leash in case of a Dog) to transfer the Animal into (preferably in a closed environment such as Car or Disabled Toilets etc.)

Should I rent or buy a cage to transport my animal by plane?
A transport cage is essential to fly your pet, whether it is a dog or cat. Also be aware that the transport cage for your pet must be IATA certified.
Recently IATA made some Changes to their specifications of the Travel Crates and some Crates we were able to use before are now NOT accepted anymore.
Details here:
Discover what is an IATA certified cage. An un-certified cage IATA will see the departure of your pet refused.
Be careful not to buy or rent a cage in a hurry on the internet because many cages have the characteristics of cage standards for the transport of your pet plane but are not IATA certified.
Various Sizes for renting Dog or Cat IATA approved Travel Crates.
Other Sizes can be supplied, rented or sold as well.
| Image | Size | Description |
| --- | --- | --- |
| | 48,3x32x25,4 cm | This Carrier is suitable for 1 small Kitten. Can be used in HOLD or CABIN |
| | 60.7 x 40 x 40.5 cm; 3.12 Kilograms | This Nr 3 is suitable for 1 Large Cat or Dog or even 2 smaller Kittens. |
| | 67,0x51x47,0 cm | This Nr 4 Crate can hold a larger Dog or Cat up to kg or up to 3 Kittens. (max allowed by Airline in 1 Crate.) |
| | 80,0x56x59,0 cm | Nr 5 Crafted with premium materials, it guarantees durability and long-lasting performance. The well-ventilated design allows for excellent airflow, maintaining a fresh and cozy environment. Equipped with convenient handles (NO WHEELS SUPPLIED) |
| | 68 x 48 x 51 cm | Skudo Nr 4.The snap closures ensure a secure locking. The metal door on the front is equipped with the safety lock "Dual Control". "Skudo IATA" for small dogs and cats is available in different sizes |
| | | |
The pet must be able to turn around normally while standing, to stand, to sit erect and to lie in a natural position, while in the crate, otherwise the airline might not accept the pet in the crate.
Also discover our tool to choose the right cage for your pet.