Return of Crates (optional)
If the Cost of the Traveling Crates you are sending the Animals in is an Issue, there might be some Options to return them.
Option A:
You could charge the Adopters a part or full Cost of the Crate you provide.
Saves them buying one, and the Cost would be the same or similar to them.
This would be the easiest Option.
Option B:
Depending on which way I return to Cyprus I could bring back the empty(stacked) Crates.
1.The Adopters would have to come to the Airport with their own Crates to transfer the Animals into (or Leashes or similar in the case of Dogs)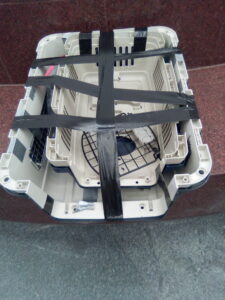 2.I would need to clean and dismantle the Crates, stack the halves and put them into a large Bag (similar to the big Nylon Bags the Post Office use).
3.Leave them overnight at the Luggage Lockers, as I cannot take them to a Hotel if I stay Overnight.
Depending on Weight, Size, Airport and Duration the Cost can be varied. Usually between € 10.00 and € 20.00.They are considered Oversize.
4.Next day on Return Day I would need to add one Piece of Luggage to my Ticket (around € 35.00 to € 60.00 depending on Size and Weight), and book them in as Oversize Luggage.
5.On Arrival in Larnaka you could come and meet and collect OR I could take them Home with me and either send on with GapAkis, wait for you to collect from us or take them back to the Airport Larnaka for my next Trip for you.
If this Option is chosen, I will need to know BEFORE I fly as I need to take Packaging Tape, String, large Bag or other Packaging Material with me.
IMPORTANT: You need to tell the Adopters to bring Scissors, Knife or Cutter with to Airport so we can cut the Cable Ties.
If the Crates are all the same sizes, taken the two halves apart, they stack quite easy.
This would be the more complicated Option.