Sophie's Wunschkalender / Sophie's Wish List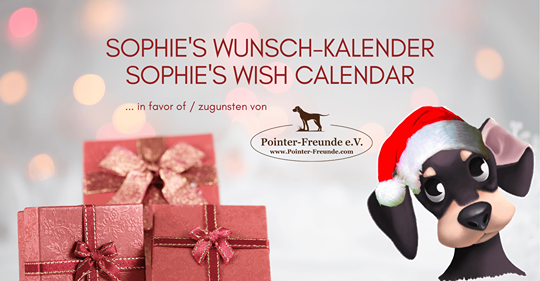 English Below
SOPHIE'S WUNSCH-KALENDER

SOPHIE, die Botschafterin unseres Vereins,( Pointer-Freunde / Pointer-Friends e.V. )ist eine geistig behinderte Pointer-Mix-Hündin, die ursprünglich auf Zypern geboren wurde.
Sophie ist ganz besonders und hat sich daher auch dazu entschieden, einen ganz besonderen "Advents-Kalender" zu gestalten:
SOPHIE'S WUNSCH-KALENDER startete Freitag, den 13.Dezember, und endet am 31.Dezember.
Sophie hat viele Wünsche für die Tiere unter dem Schutz unseres Vereins Pointer-Freunde / Pointer-Friends e.V.
Bitte helft Sophie dabei, ihren Freunden zu helfen! Ihr könnt entweder einen Wunsch komplett erfüllen (spenden) oder sehr gerne auch einen Teilbetrag für einen Wunsch spenden.
Schaut Euch SOPHIE'S WUNSCH-KALENDER an und bitte helft dabei, einige Wünsche wahr werden zu lassen!
SOPHIE'S WISH CALENDAR
SOPHIE, the ambassador of our association, ( Pointer-Freunde / Pointer-Friends e.V. ) is a mentally handicapped Pointer-Mix-bitch, who was originally born in Cyprus.
Sophie is very special and has therefore decided to create a very special "Advent calendar":
SOPHIE'S WISCH-CALENDER started on Friday, December 13th and ends on December 31st.
Sophie has many wishes for the animals under the protection of our association Pointer-Freunde / Pointer-Friends e.V.
Please help Sophie to help her friends! You can either fulfill a wish completely (donate) or very gladly also a partial amount for a wish donate. ♥
Have a look at SOPHIE'S WISH-CALENDER and please help to make some wishes come true!