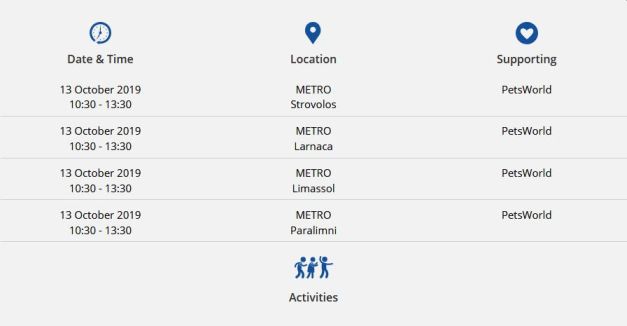 [vc_row][vc_column][vc_column_text]
Come and join the Fun at the 10th Metro Pet Day
Give them a home & receive their love.
Cyprus's biggest annual event for strays and animal welfare organizations support celebrates its 10th anniversary, thanks to your active participation all these years:
More than 500 animals have been adopted
More than 2 tons of pet food have been offered
€12.000 was donated for veterinary expenses
Join us at the 10th METRO Animal Day and meet your new pet friend, offer it a home and gain back real love.
Buy souvenirs and pet accessories to support the difficult task of Animal Welfare Organizations.
For each adoption, Brekkies and Armigate will provide pet food of €20 worth and METRO supermarkets will contribute €20 for veterinary expenses through the Animal Welfare Organizations.
At METRO Supermarkets in Strovolos, Larnaca, Limassol and Paralimni.
METRO Strovolos
Nicosia Dog Shelter
Cat P.A.W.S. Cyprus
P.A.W.S Protecting Animals Without Shelter
METRO Larnaca
Association for the Protection of Animals & Birds in Larnaca, Ammochostos
Cat P.A.W.S. Cyprus
METRO Limassol
Cat P.A.W.S. Cyprus
Dog Valley Rescue Center
METRO Paralimni
Ammochostos Dog Rescuers[/vc_column_text][/vc_column][/vc_row][vc_row][vc_column][vc_gallery interval="3″ images="4776,4775,4774,4773,4772,4771,4770,4769″ img_size="full" title="Paralimni Metro Pet Day"][/vc_column][/vc_row]