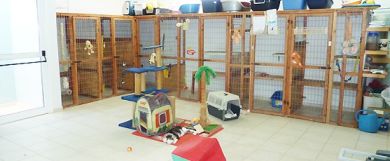 A 5 Star Cat Hotel in Peyia, Paphos(Cyprus)
Our cattery is a year round facility. It is a home from home for your furry friend. Our outdoor cattery enjoys a safe outdoor environment with a roomy indoor suite and our indoor cattery suites are large and your cat will have access to daily exercise in our play area.
Both our indoor and outdoor facility have a/c and heating.
We only accept fully vaccinated cats and you will be required to show your health book when you check-in.
Your cat is fed on Royal Canin food, if you require a special diet you are welcome to bring your own food or treats.
Due to our excellent facility and the added bonus of having a vet in house we are often full up months in advance so it is advisable to call reception on 26622775 to ensure we have availability.
Please visit their Website for more details.